MKDC Ballet Dancers at the IDTA SE Area Classical Performance Award
On Sunday 29th September, four of our ballet dancers travelled to the Chequer Mead Theatre in West Sussex to take part in the sixth IDTA South East Area Classical Performance Award.
In order to take part the children had to have achieved marks of 83 or above in the relevant exams they took in July 2018.  The children attending were:
Molly-May Baker who scored 86 in her Grade 2 exam
Bethan Cursley who scored 86 in her Grade 2 exam
Sam Gardner who scored 86 in his Grade 2 exam
Katie Odds who scored 87 in her Grade 2 exam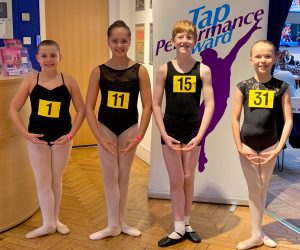 This was the first year that the IDTA SE had taken the Classical Performance Award to a theatre and everyone was unsure what to expect.
The day started with our children taking part in Class A – Part 1 (Grade 2) taught by Stephanie Ross.  There were approximately 40 children on stage together for the 50 minute class comprising some warm up exercises, an Adage and an Allegro.  All four of our dancers performed well and held their own in the company of some excellent dancers.  They all learnt and remembered the brand new Adage and Allegro well.  The lines of dancers were regularly rotated throughout the class to allow the judges and audience to see all the dancers, and some parts of the class were danced in small groups to allow the dancers more space on the stage.
A further 30 children then participated in Class A – Part 2 (Grade 3) which followed the same format as Part 1.
23 children from across these two classes were chosen to dance in the Class A Final, including Bethan – well done Bethan! The Final class consisted of the dancers repeating the Adage and Allegro that they had learned previously so that the judges could select the 1st, 2nd and 3rd place dancers. Bethan danced beautifully and smiled throughout the whole Final class.
Molly-May, Sam and Katie then all returned to the stage to dance their Adage again so that one dancer could be selected for the Endeavour Award for technical promise.  All three performed well and did a good job of remembering the choreography they had been taught in the first class.
Although none of our dancers came away with awards on the day they all received certificates for qualifying (by dint of their excellent exam marks) and participating in the Classes, and should be very proud of themselves for showing such great ability and skill in a new and unfamiliar setting.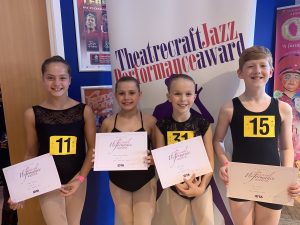 Amy and Debbie are very proud of our four dancers for qualifying and dancing with the top Grade 2 and 3 ballet dancers in the IDTA South East region. Well Done Bethan, Molly-May, Sam & Katie!